the GOLDFIELD GUNFIGHTERS
Goldfield Ghost Town is located 4½ miles North of Apache Junction, Arizona on State Rt. 88 ~ otherwise known as the Apache Trail.​
​
The Goldfield Gunfighters are a dedicated group of

volunteer

men & women who take pride in their authentic reenactment. Bringing the spirit and the history of the Old West to life for the

many generations of young and old that visit Goldfield Ghost Town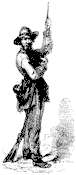 Congratulations to the Mojave Muleskinners
The world-knowned, Mojave Muleskinners, will be setting up their primitive 1800s' encampment, complete with a TeePee, March 12-15, 2020! Celebrating 25 wonderful years of hooting, hollerin' and all around rabble-rousing! Mojave Muleskinners will be coming in from different parts of the universe to commemorate the occasion!

Make sure to come out and see us on the weekends, November thru April, and watch the spirit of the Old West come alive!